Started from the bottom now we're here! In this Badass Brand Breakdown, we're getting into how Drake became an absolute hip hop icon and built an incredible brand.
I first heard Drake back in 2008 when I was living in Spain. I was kind of obsessed with his two mixtapes and rocking it all day, every day. Who would've thought that he would become the ultimate icon he is today, named "Artist of the Decade" for the 2010s, and has absolutely dominated music and pop culture since he emerged?           
When it comes to Drake's brand, I would say his approach has been a little bit similar to LeBron James (check out my Badass Brand Breakdown on him) in that it's not necessarily a written out brand strategy as I might create for one of my clients. However, it has been very, very calculated. He knew exactly what he was getting into by going into this industry. Drake has been in entertainment since a very young age and has made strategic, savvy decisions to become such a marketable, global icon every step of the way. 
Core Message: King of the Charts
Drake's core message – aka the single most important message about his brand – it might be something like "King of the charts" or even "the MJ of hip hop" because so much of his success has been on this undeniable dominance over the past decade-plus. He has brought that kind of hero mentality that you might see typically in an athlete or sports brands like Nike or Jordan into the hip hop game in a way that we haven't seen prior.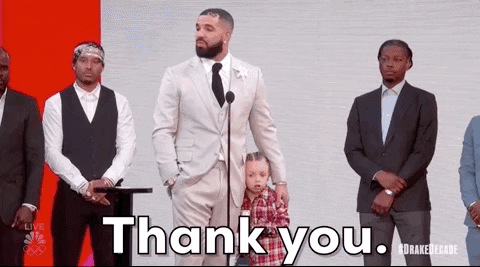 Brand Personality: The Multifaceted Hero
You can see that hero mentality really clearly in his brand personality. Drake is totally a Hero Brand, the classic archetype of an athlete or this kind of conquering achiever. Drake brings that confidence, swagger, endless achievement, and that pursuit of mastery, but he does it in a pretty unique way that we hadn't seen in hip hop prior. So he brings a lot of these contradictions, really just in the fact that he is black and white; he has these two different identities that are sometimes at odds and inform who he is. Whether you believe this or not, some people say he is just "white enough" for mainstream America, which really speaks to our society's prejudice. But there is some truth in that and that he is "socially acceptable" to a broad audience. He can speak to his Jewish mom, and his dad, who grew up in, like, the hood of Memphis, and both things are true to him. So, he has a really broad appeal and can relate to people on many different levels.
Those contradictions or that balance of two different traits goes even further beyond that. Drake is a rapper and a singer, so his music has kind of the trap elements, the hood elements, but also has this R&B side and this emotion that we hadn't seen from rappers before. He brings a lot of vulnerability and honesty emotionally, but then balances that with the swagger you typically see in a hip hop artist. He can be really charming and the face of a big brand, but he also has enough credibility to be respectful when he's talking shit in his songs. So really riding this line of like the mainstream and the nichier audiences. 
You even see that in both the serious sides of his songs and the humor he brings to his performances, media appearances being on SNL; he's known for being a really funny guy and has a lot of acting experience. So again, riding that line of being versatile and malleable to different people. That is a unique spin; there's a lot of depth to it that we don't always see in a hero brand.
Brand Tactics
These are the key themes or strategies that he has used to really stand out, maintain this dominance, and forge his way as a brand. 
#1 Doing It His Way:
This is that authenticity that I believe you see in every single successful brand. There's that uniqueness in the raw quality of "this is who I am, and this is how I'm gonna do it," with Drake that started from the very beginning. He has this line "rich off of mixtape" because he really blew up straight from mixtapes; he won a Grammy off one! He didn't even drop an album until he was already years into the game, widely respected, and already rich. That was definitely unique. 
But that hasn't been the only way he's done it. His dominance, the personality of the balance, the rapping, and singing, all of those were unique and innovative at the time — and many, many grew to copy them. He really changed the landscape of hip hop, or pop-rap, and melded R&B and hip hop in a way that hadn't been done before. He put on his whole team (which we'll talk about more in a bit) and redefined what a rapper looks, talks, and acts like. Plus, he's Canadian, and we hadn't seen that huge of a powerhouse in the hip hop world from Canada before Drake.
#2 Volume:
as in volume of music – the quantity – but also the quality and the versatility within it. Drake is prolific; he has put out so much music since he emerged, not just so much music, but so much good music. It seems like it's been hit after hit, after hit, after hit, after hit. He cannot lose. And that is unique. While lyrically, he's not necessarily thought of as one of the greats like Tupac or Jay-Z, or even like current greats like Kendrick or J Cole, Drake's still in that conversation because of his straight-up dominance commercially and from a mainstream standpoint. Since he emerged, he has put out: 
6 studio albums

3 compilation albums

2 extended plays

7 mixtapes 

139 singles (included 80 as a featured artist)

84 music videos
That is a lot of fucking music, and I guarantee most of those have been hits. He hasn't had an unsuccessful album. In fact, one of the ways he's changed the game is that instead of just having successful singles, most of the time, his entire album charts. And that is just a level of consistency and dominance that we really haven't seen.
#3 Transparency And Gossip:
This is something he's done within his raps; he'll put himself on blast in his music. He'll talk about who he's dated or the women that rejected him. He'll put his own business out there, and it becomes fodder for gossip and conversation, almost a publicity tactic. But it also creates this rawness of like, oh, this dude is keeping it really real. And by being that straight up about who he is and kind of beating you to the punch, he's made it hard for people to have ammo to talk shit about him because he did it first. He knows exactly who he is, and he's gonna tell you about it before you can even get there.
#4 Putting Brand Over Marketing:
What I mean by this is he has emphasized creating an overarching brand presence versus putting tons of money specifically into targeted marketing campaigns. For example, he's known to drop his albums pretty suddenly like BOOM! there's an album out overnight without all of the lead-up and traditional marketing spending. He can do that because he's a brand; he's an icon. He puts more money into overall visibility than a specific marketing campaign. And that's one of the reasons that his albums can be so successful versus just a single. It's also one of the reasons that so many brands are striving to work and partner with him. He's got visibility – he's just generally known for putting out hot shit and being successful, and that translates to not having to do as much of the day-to-day legwork because he has that brand equity. Again, like LeBron James, that was strategic and designed deliberately from the beginning to create that strategy and build it up over time.
Visual identity: OVO & Scorpio as Hell 
Drake definitely has an overall art direction when it comes to visual identity. Of course, he has the OVO (October's Very Own) brand with the owl logo that has become pretty iconic – he even has it tattooed. But, even if you don't know OVO, Drake's known for this kind of like Scorpio brand – which I can relate to very much as a Scorpio – with a lot of moodiness, kind of dark, dim art direction, and a lot of really creative album covers. 
Brand Activation
As we've seen with many of these other icons, the most significant component of Drake's brand is his brand activation. Brand activation is how he puts his brand out into the world, makes money, and spreads his influence. 
#1 His Music:
First and foremost is with his music. Like we've said, he is a hit maker! Drake. Has. Hits. Drake is the highest certified digital artist with 142 million units based on sales and streams. Basically, since the digital era, he's the most successful artist that has existed – which is insane. And that's just the beginning of his records. He holds records on every chart, dominated the hot 100, so many singles, so many number ones, whole albums on the charts, like things that just really were unprecedented, especially in hip hop. He's a huge part of this trend and shift towards hip hop becoming like the main dominant form of music and really making it at the forefront of pop culture. As I mentioned before, he was named "Artist of the 2010s". He's a top-selling artist and just everywhere at all times. 
#2 Business Ventures & Endorsements:
Drake has translated his musical success into many business ventures, from endorsements with brands like Sprite and Burger King, to actual business partnerships.
Drake is aligned with a bunch of major brands. He's an ambassador for the Toronto Raptors. He has a very lucrative partnership with Apple Music and is considered one of the reasons Apple Music was so successful. He's also partnered with Bathing Ape. He is signed with Nike and the first hip hop artist to have his own shoes with Jordan (as far as I know). So that really aligns with how he has consistently aligned himself with sports culture and sees himself in the same way as an athlete with that rigorous, relentless approach to success. 
Drake has a clothing brand through OVO and OVO sound, which has brought us many of my favorite artists, including PartyNextDoor, Dvsn, Majid Jordan, Roy Woods, Boy Wonder, and of course, 40, one of his best friends and producers. In addition, he's a co-owner of the gaming company 100 Thieves and a co-founder and co-owner of Virginia Black Whiskey. He's even influenced the American language with Yolo, which existed before Drake, but really entered the lexicon and became commonly understood through his music.
Consistency is Everything
Hopefully, you've gained an understanding of why Drake's brand is so powerful and so successful, and maybe you can apply some of those tactics to your brand! If there's one takeaway I would give you, it's that consistency is everything, and Drake is a perfect example of that. 
Download my Brand Archetype Guide for help finding your distinct personality and get set on your way to building a powerful brand of your own.
Until next time, stay badass!